Hello readers!

Welcome to a new photo essay series called 'A Week in Photos'.

What is a photo essay? Think of it as visual storytelling. It's a way to share a story or stir up an emotion by using photographs. Usually, a photo essay will focus on one idea or theme.

I'll start! Let me show you what I've been up to this week.

I would love to see what your photo essay looks like! If you want to share your week at Heartland and in Winnipeg, come find me and let's chat 🙂

Enjoy!

– Jasmin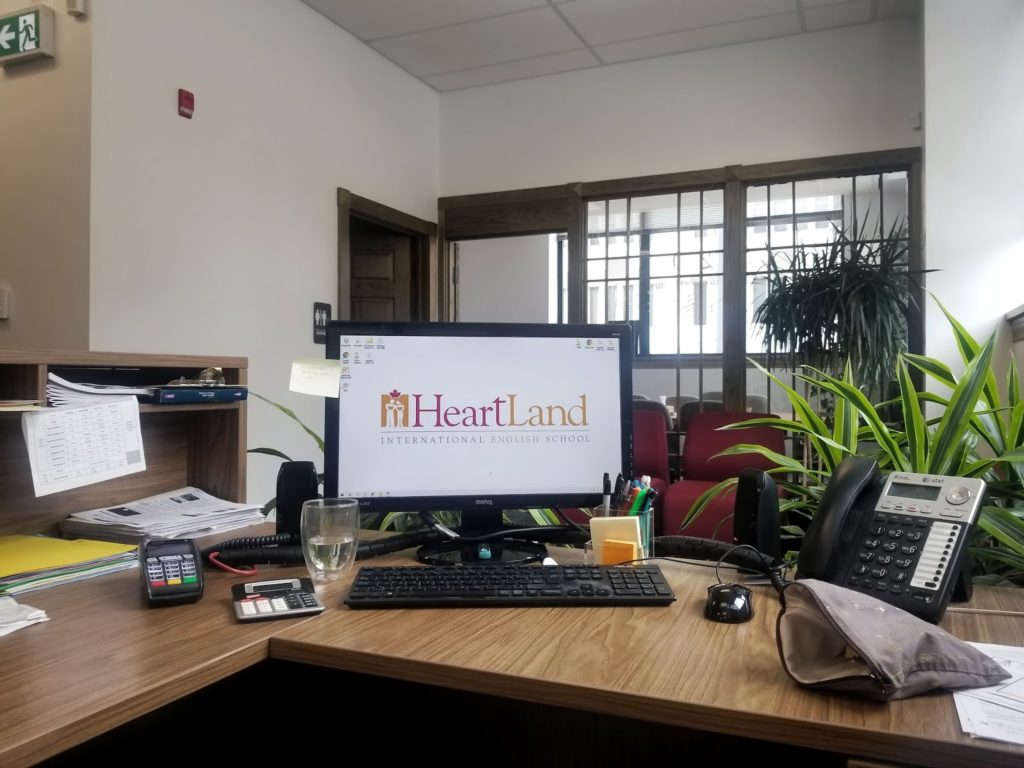 Welcome to my desk! You can't see the rest of it, but it's organized chaos.

I really love my job. Where else do you get to meet interesting people from around the world every week without spending a fortune on travelling?! I try my best to remember every student's name. It's difficult, but I think it's so important.

Fun fact: this is not my first Heartland desk! When I started in 2017, we were located down the street at 294 William Avenue. I had a tiny desk in a tiny room that I shared with my awesome coworkers, Keira and Jenni. I miss it sometimes!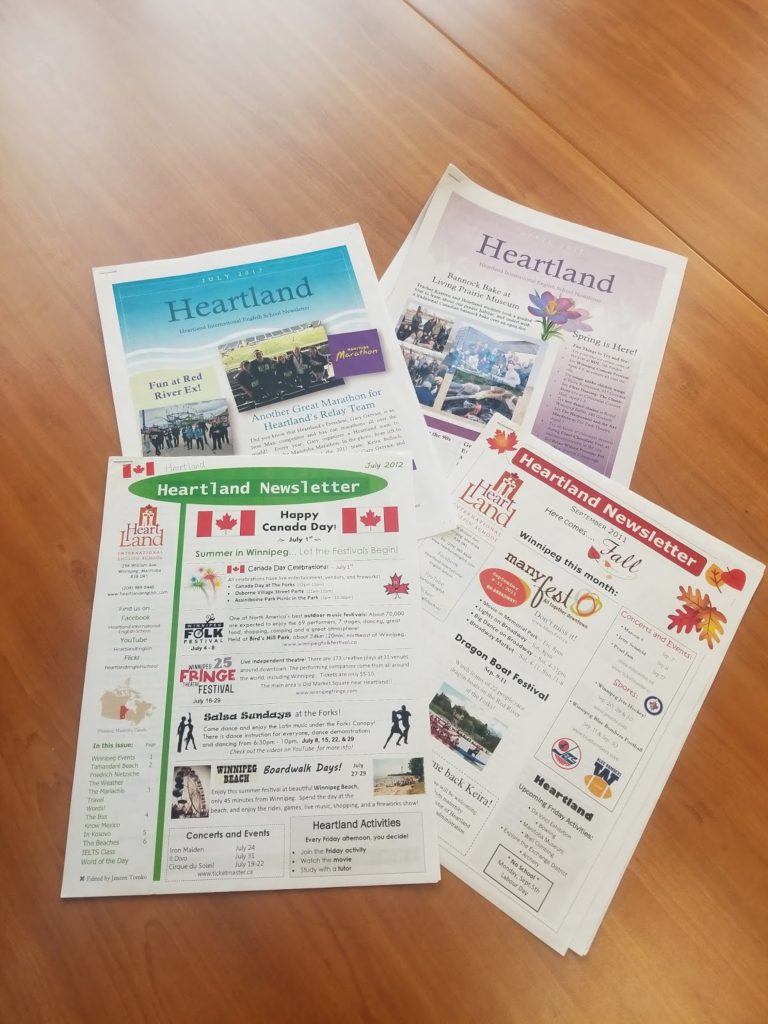 Vintage newsletters edited by Carol (top) and Jeneen (bottom). Can you believe that 2011 was almost nine years ago?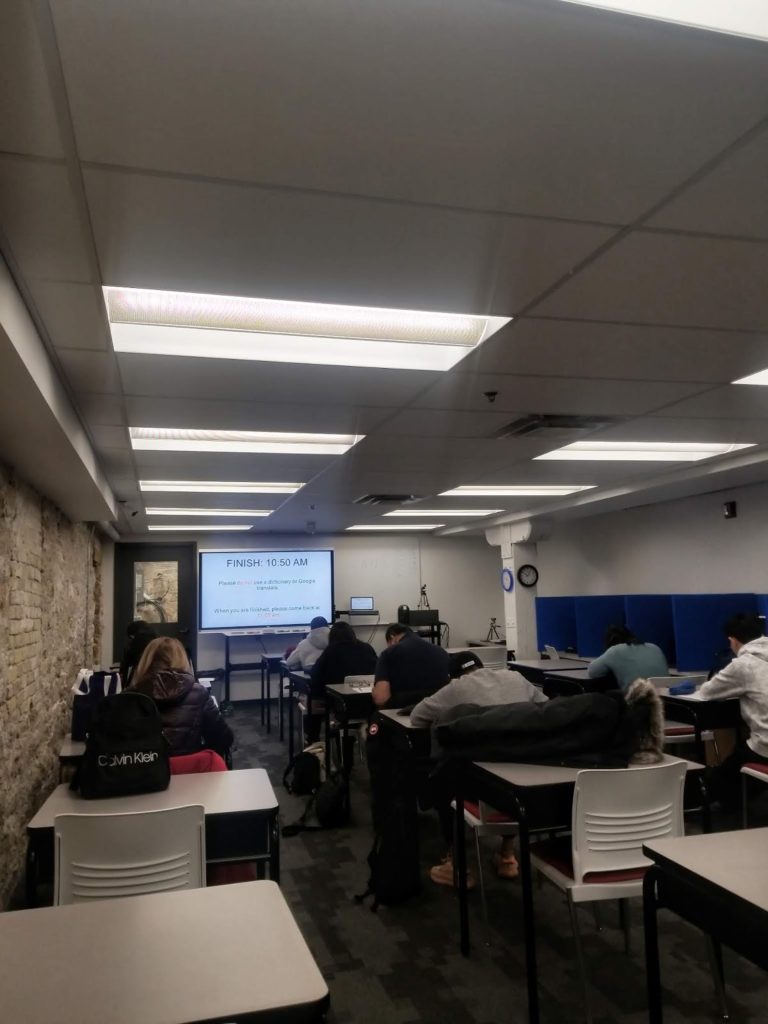 Most people won't agree with me, but Monday is my favourite day of the week. Do you remember your first Monday at Heartland?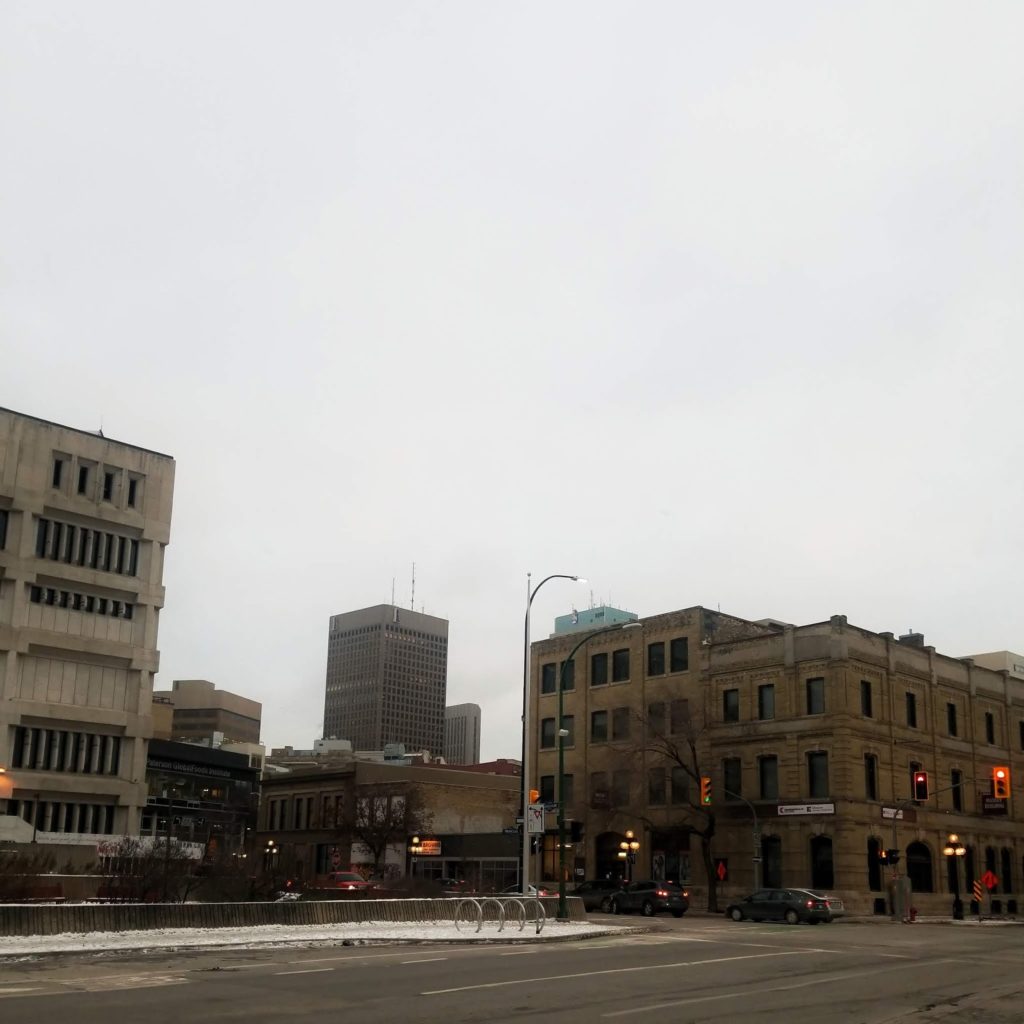 Time to go home! Winnipeg's a smaller city, but there are lots of cool events and local businesses popping up.
On the left side of this photo is the future 'Market Lands'. They will be tearing down the abandoned Public Safety Building and will one day build a creative hub for a public market, gallery space, and housing.
My mother immigrated to Canada in the late 1970s and she said that Winnipeg used to be a ghost town! I take her to new cafes and local shops now, and she is very impressed with how this city has evolved.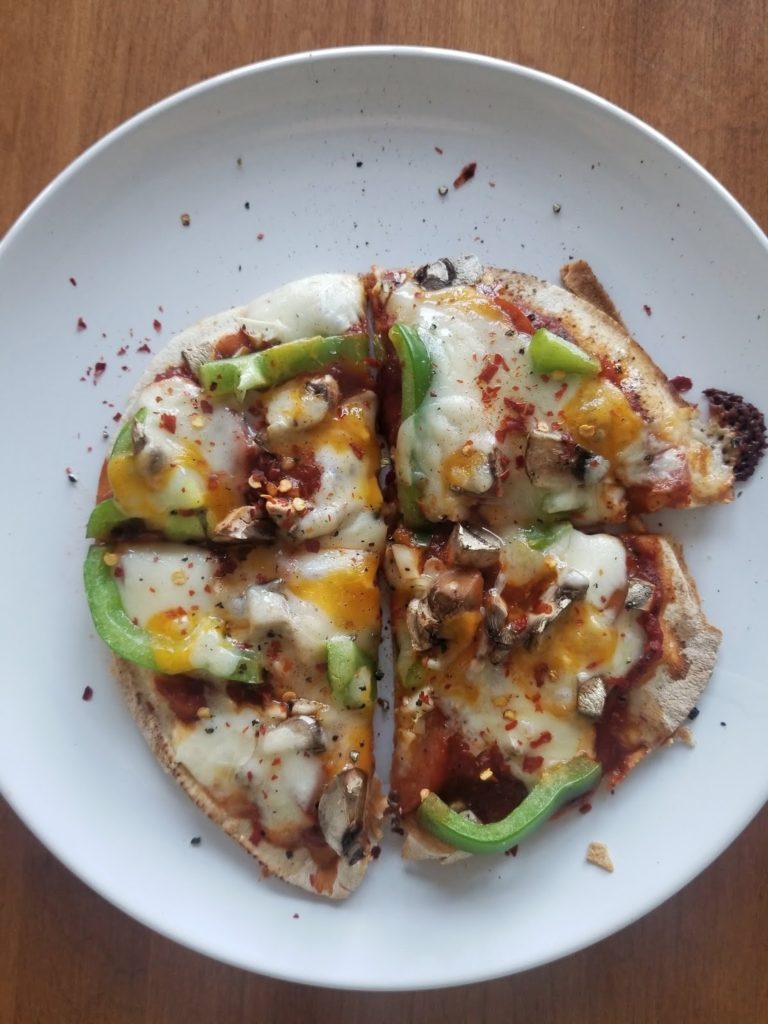 I can't say 'no' to pizza. Here's my version of a deluxe thin crust pizza. The secret ingredient? Mozzarella with a high moisture content. Yum 🙂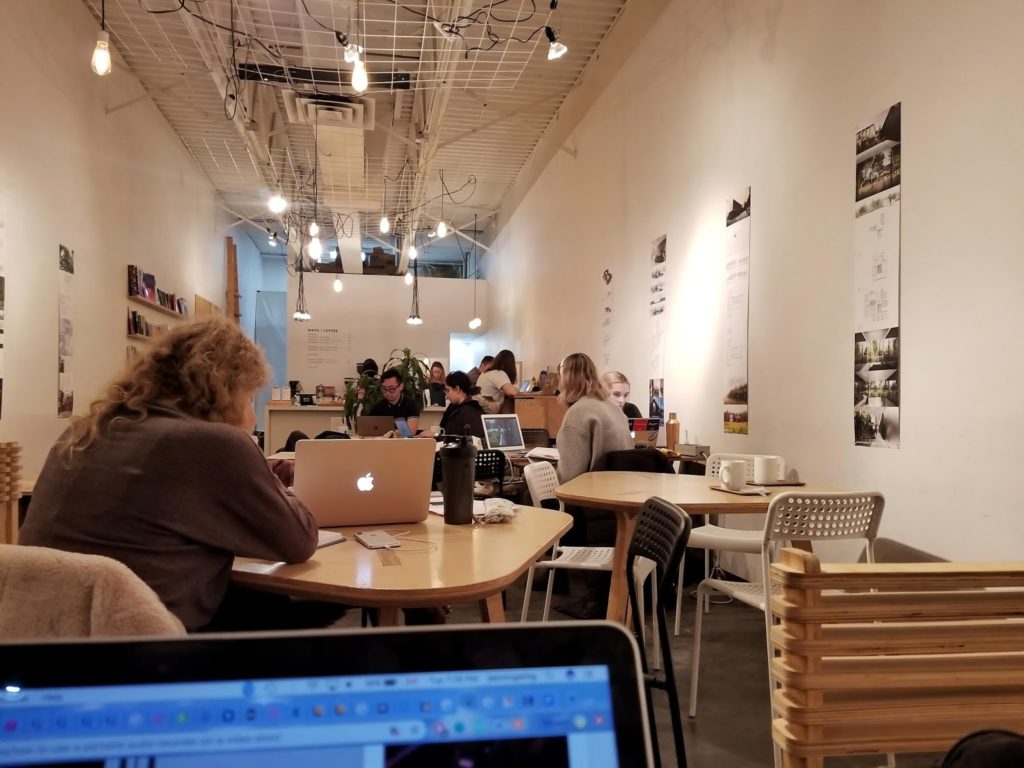 Reading and writing at coffee shops are things I like to do with my friends. Be sure to stop by 'MAKE Coffee' while you're in Winnipeg. It's located on Corydon Avenue, which is the best neighbourhood in my opinion.
MAKE is owned by an architecture professor who uses his cafe to showcase Winnipeg designers and makers. His motto for MAKE is "coffee, conversation, and culture".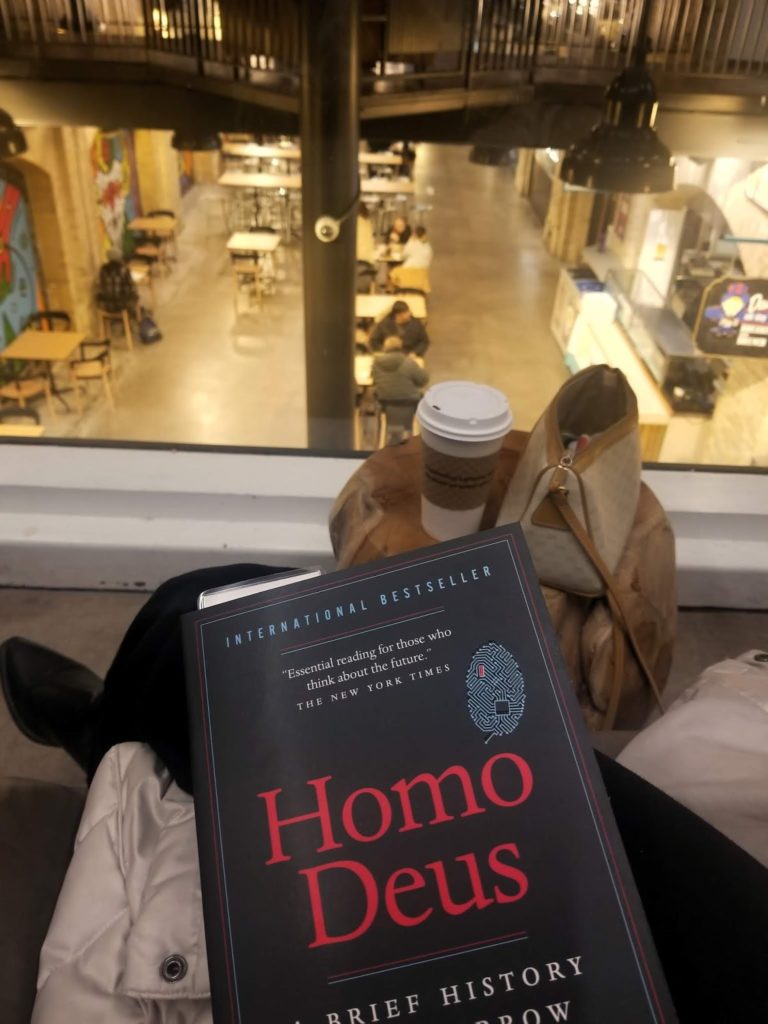 I studied English Literature in university, but lately I've been loving non-fiction. Right now I'm reading Homo Deus: A Brief History of Tomorrow by Yuval Noah Harari.
Oh, and that's me relaxing at The Forks with an apple cider from Espresso Junction. Later that evening, I ordered a chicken roti from Bindy's. Highly recommend.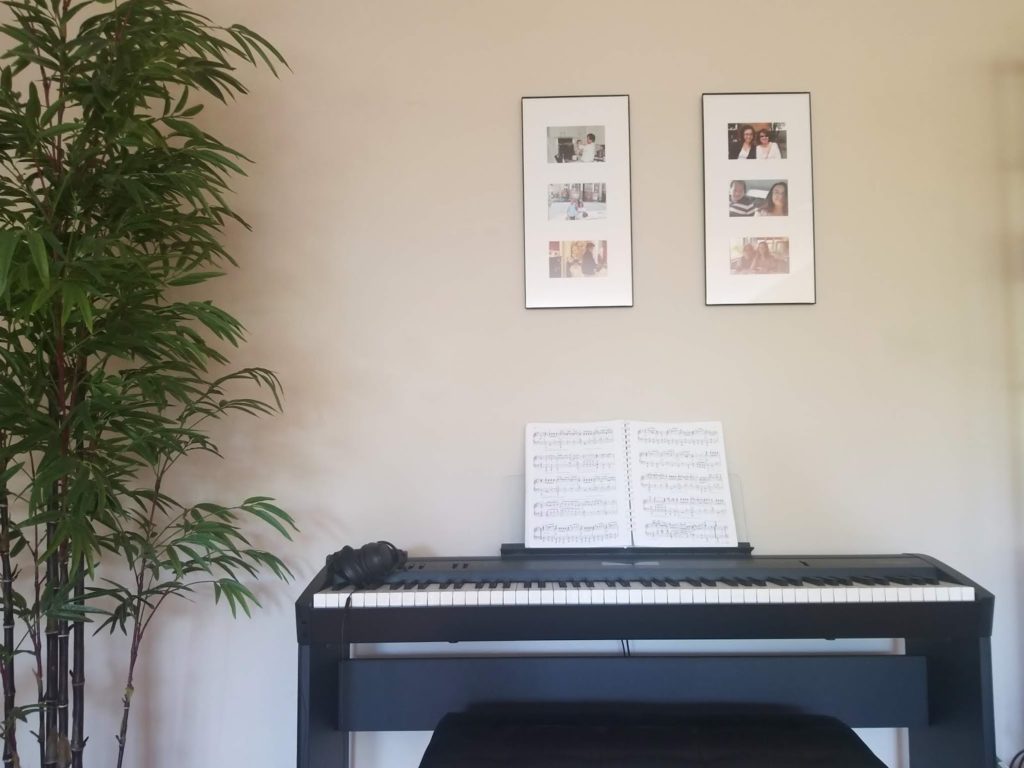 Learning an instrument is a lot like learning a new language. Some days are easier than others! I started playing piano when I was 5 years old. I used to have all the time in the world to practice, but now that I'm older, I find that life goes by so quickly and I have no time at all!
If you're struggling to practice whatever you are learning, remember to slow down and enjoy the process 🙂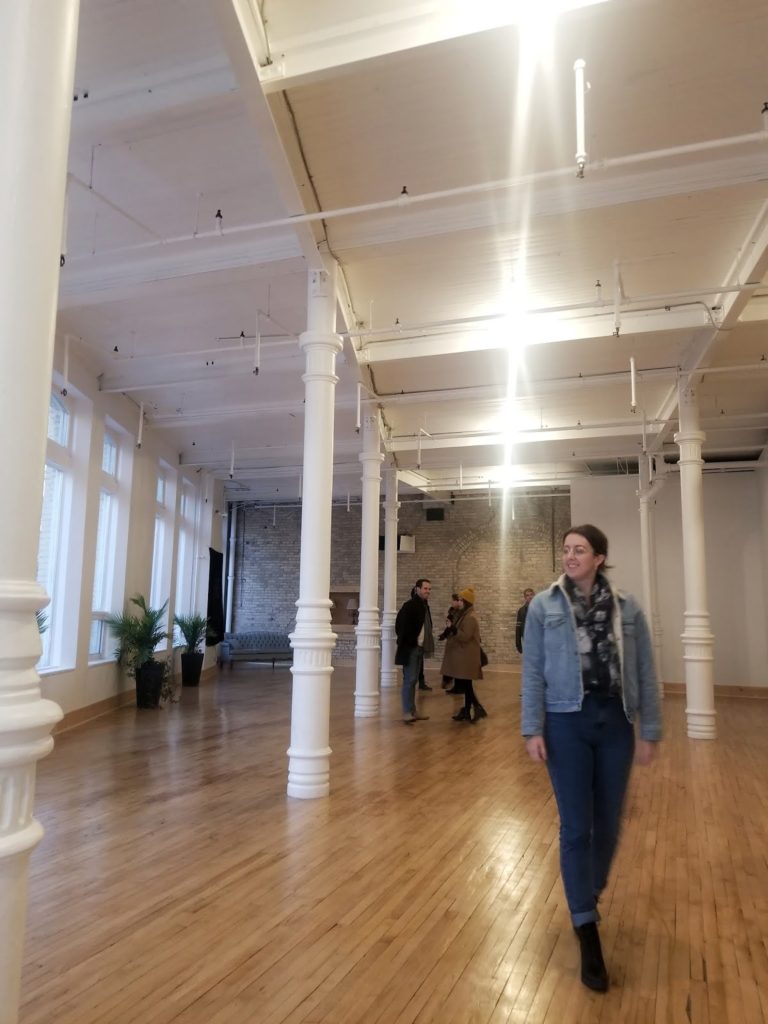 My best friend is getting married! She met her fiance in The Netherlands while working abroad. He will be braving the cold and moving here in January! Very romantic, right?!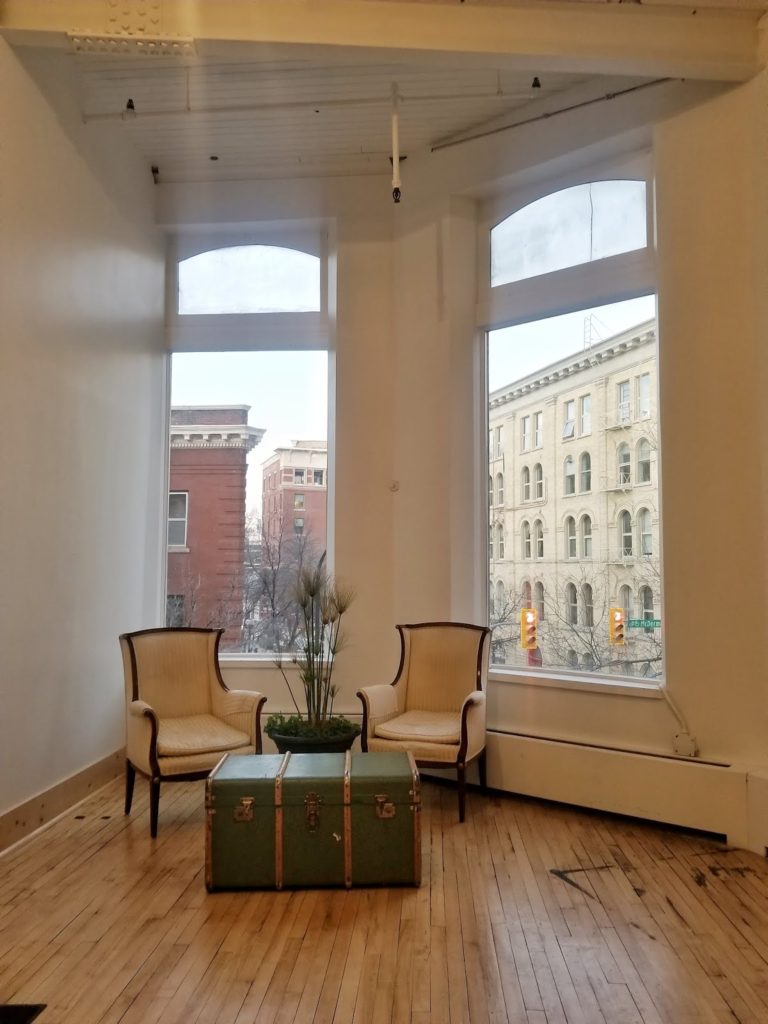 We visited a potential wedding venue called 'Cloakroom Wellness'.

This place is beautiful and located only 2 minutes away from Heartland. You can rent this space for photoshoots, workshops, or events. I can't wait to celebrate with her!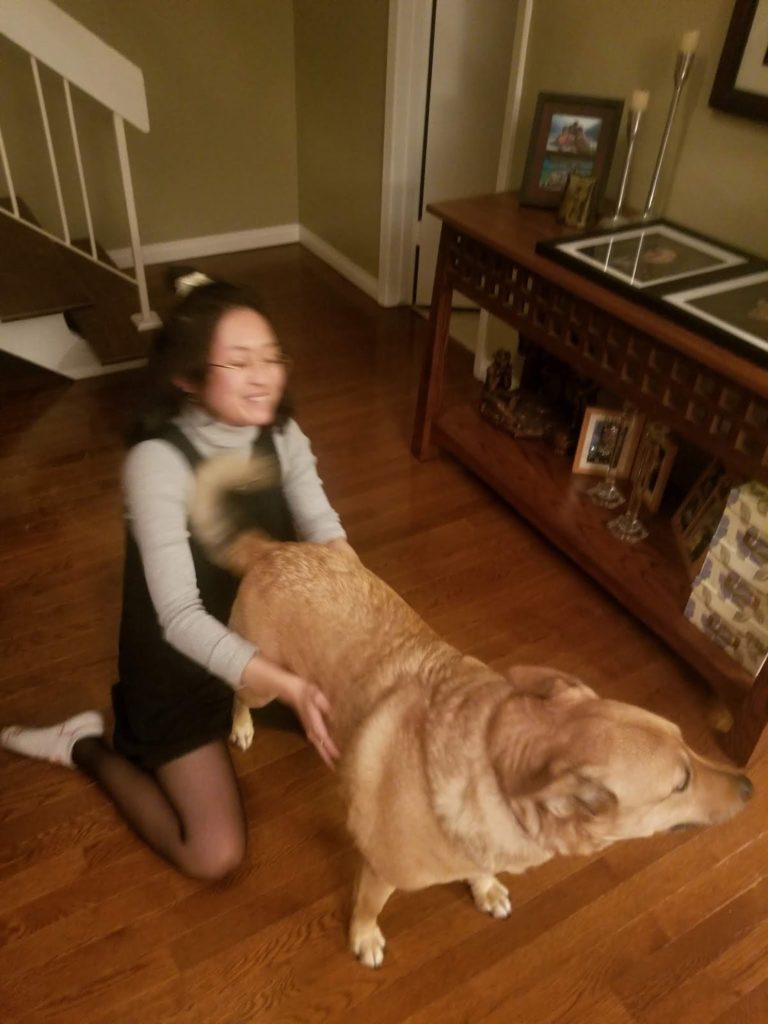 After visiting the venue, we went to her parents' house and I said hello to her dog, Bowie. He loves to sit on the guests.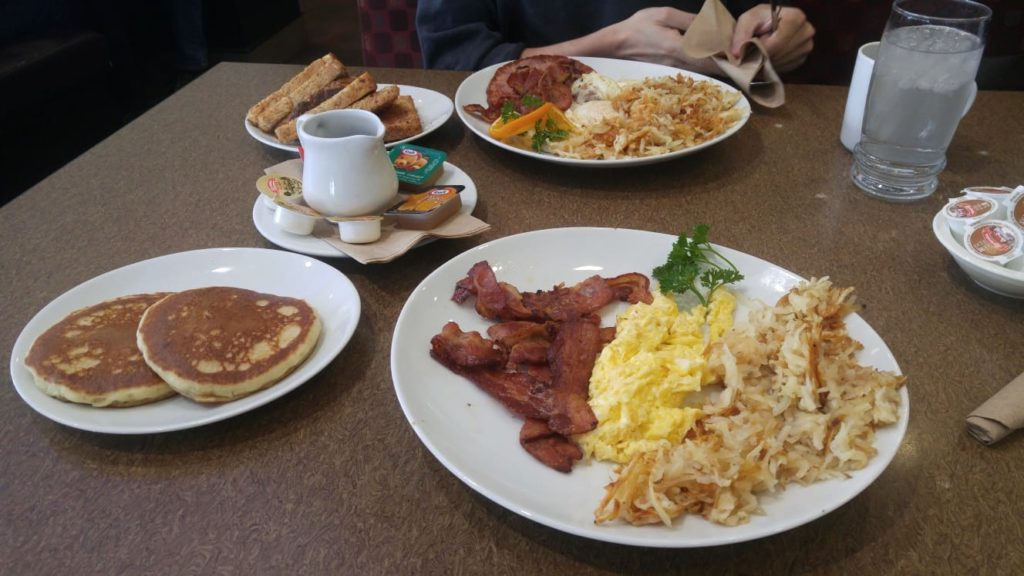 Starting the weekend off right with a hearty breakfast.
Salisbury House (you can call it "Sal's") is a Winnipeg restaurant chain that opened in 1931. The breakfast food is delicious every time I go. The Pembina location is the best one by far, and it's open 24/7! (759 Pembina Highway)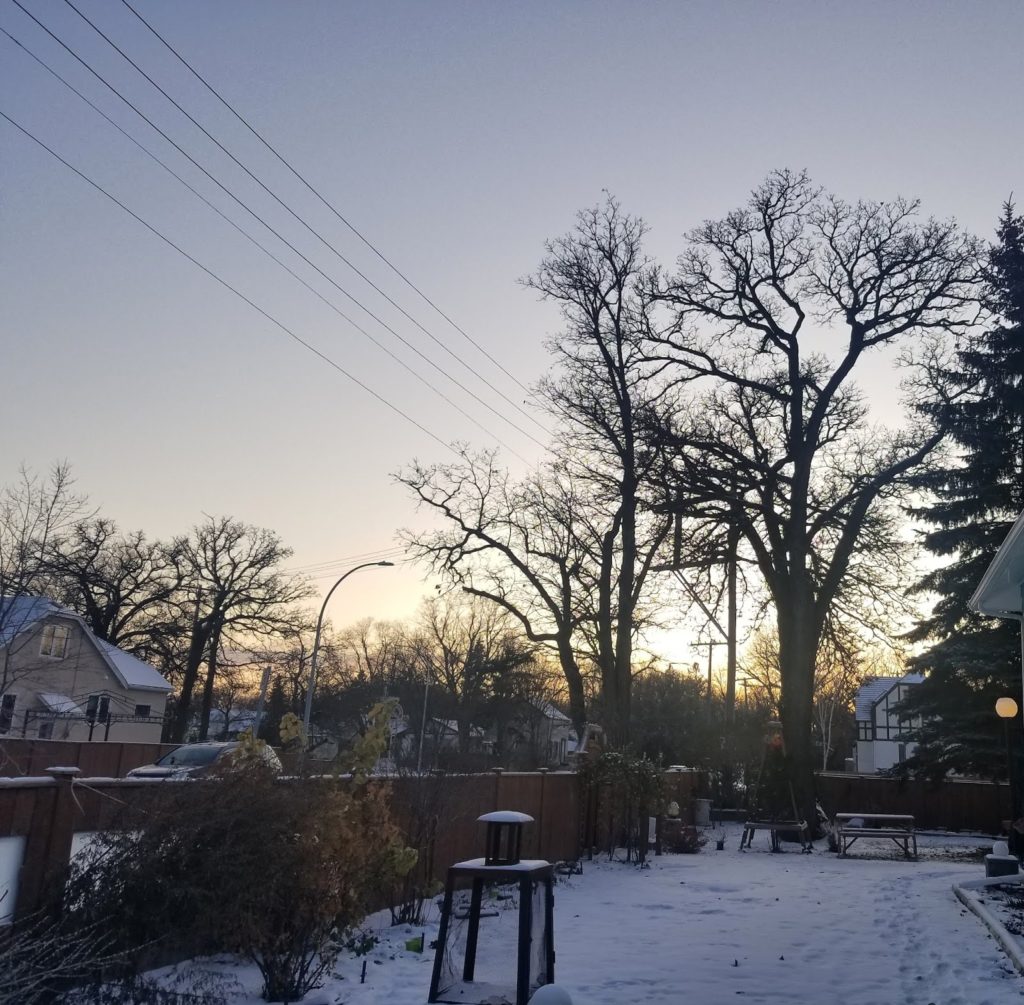 Every Sunday afternoon, I visit my parents. Here's a view of our yard in the home where I grew up.
My dad loves to cook and my mom loves to tell stories. Coming home is the best way to end a busy week. Spending time with them and feeling totally comfortable at home always sparks happy memories for me. It's refreshing and grounding.
What does 'coming home' mean to you?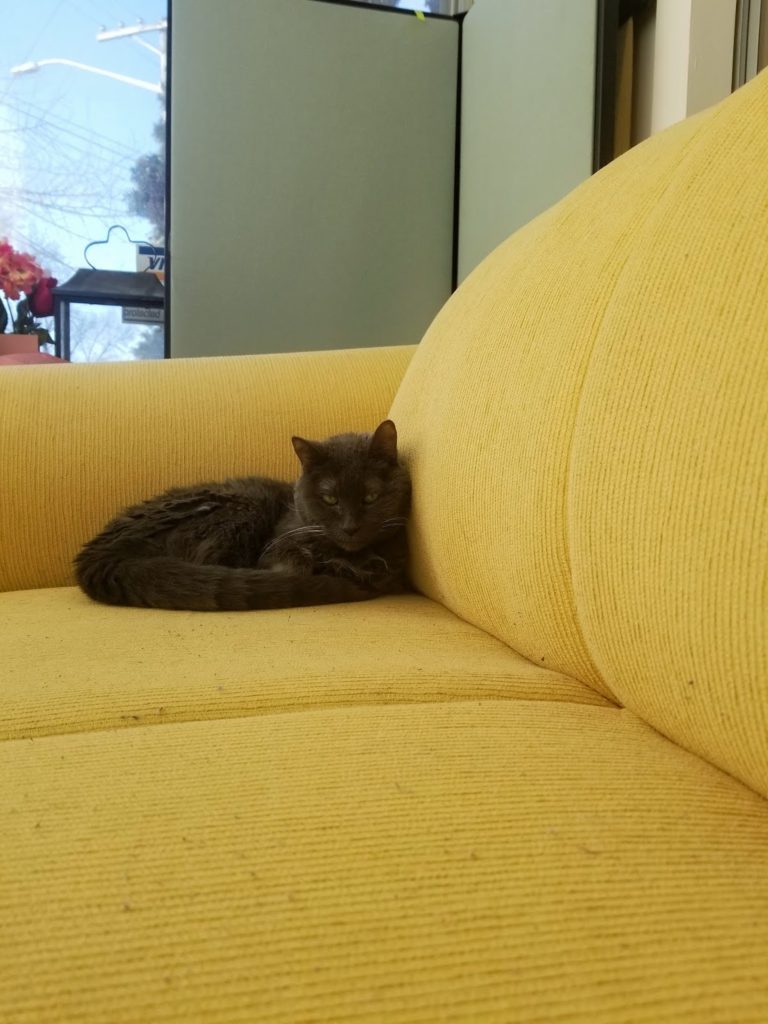 And of course… I can't forget about my cat, Arizona. She's almost 20 years old.

Don't be fooled by her dark stare! She is very loving and will sit on your lap and purr while you're trying to eat dinner.