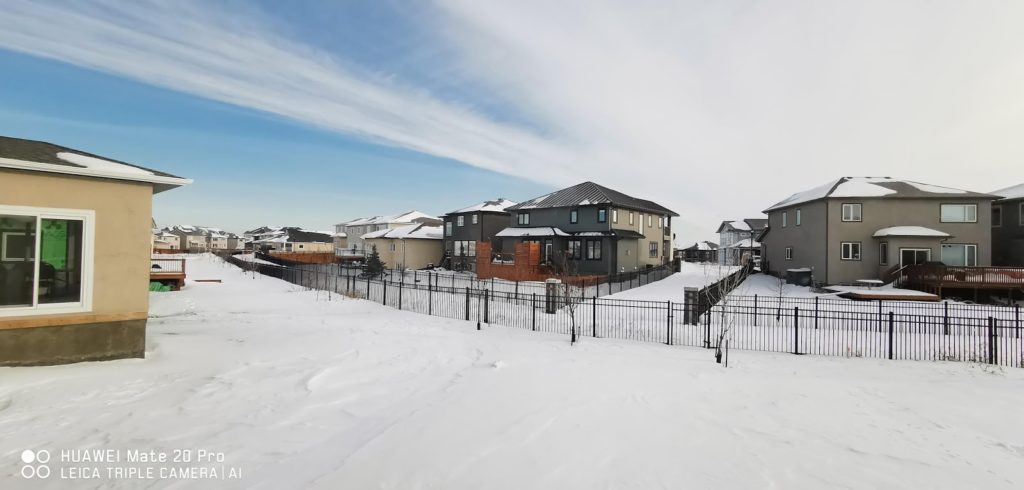 Glad to meet you guys.  Let me introduce myself first.  My name is Jun, and I'm from China.  I'm an 18 year old boy who loves life.  This picture was taken on my first morning in Winnipeg.  When I opened the curtains, I was shocked.  The snow covered almost every corner.  I had never seen such a beautiful scene before.  
What's more, the jet lag really hit me this time!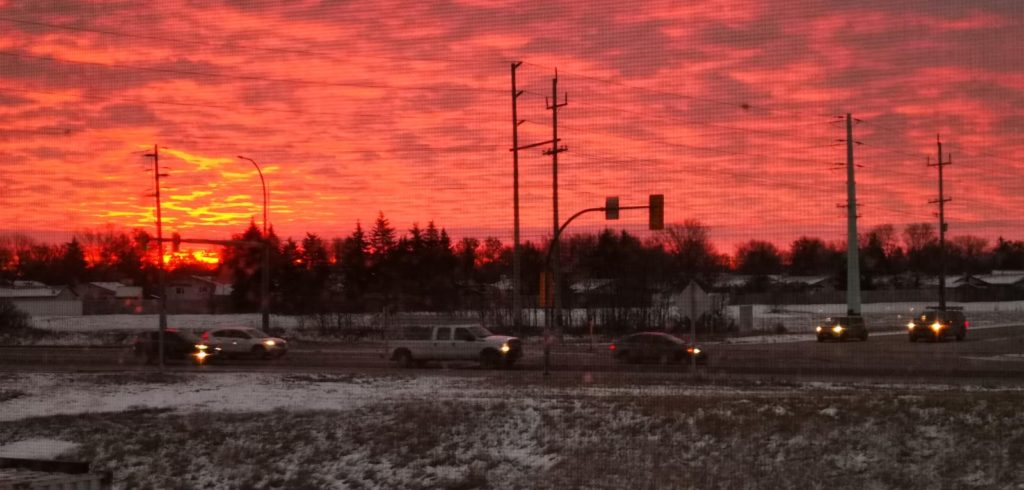 Time to get up and start a new day.  It's 7 a.m. in the winter of Winnipeg.  
When I saw this moment while I was preparing breakfast,  I immediately photographed it.  It was the most beautiful morning I've seen so far.  Look at this movie-like scene.  Only Winnipeg can have such a beautiful scene.  
At the same time, it reminds me that we need to refuel for a new day at Heartland!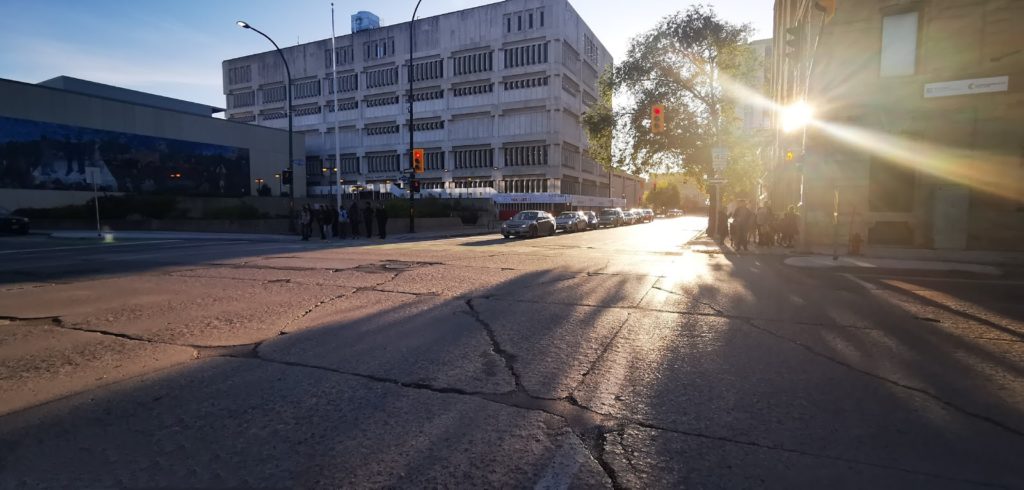 Enjoy the first sunshine of Winnipeg's morning, guys!  I believe that many people walk through this ordinary intersection, where there is the most congested traffic everyday, people who com eand leave every morning, and children who go to school hand-in-hand.  I stand at this intersection and quietly catch the dazzling sunshine.  It's like finding a treasure!
I believe that if you try to slow down and abandon the fast-paced life, you will also find the beautiful scenery around you.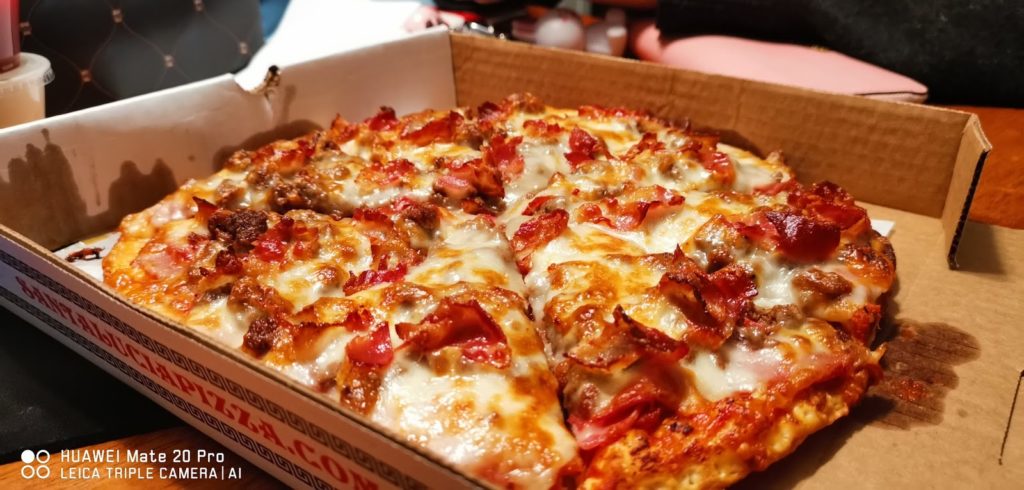 I know it's tempting and I suggest that you read this while enjoying lunch.  For people like me who rarely eat pizza or fast food, I have to say that Winnipeg's fried food is much better than other places.  The pizza is very big, with my favourite toppings, cheese and sausage.  I really like the pizza made by Santa Lucia Pizza, and the fish and chips at The Forks.  Maybe you've eaten these before.  Anyway, they are really delicious and cheap.  But for the sake of health, I suggest you guys eat less fast food and more vegetables! 
On this day, I finally started the pathway course in Advanced 1.  I have been studying at Heartland for nearly 7 months, and I really have a lot of good memories here.  In fact, I was very nervous on my first day at Advanced 1, even feared whether I could graduate or not.
When I saw this magnificent sky, I became confident.  This sky encouraged me to take the final challenge to learn English, which turned into my strength.  Right now, my learning state has adjusted very well.  I'm immersed in Jeneen's class everyday to study pretty interesting grammar.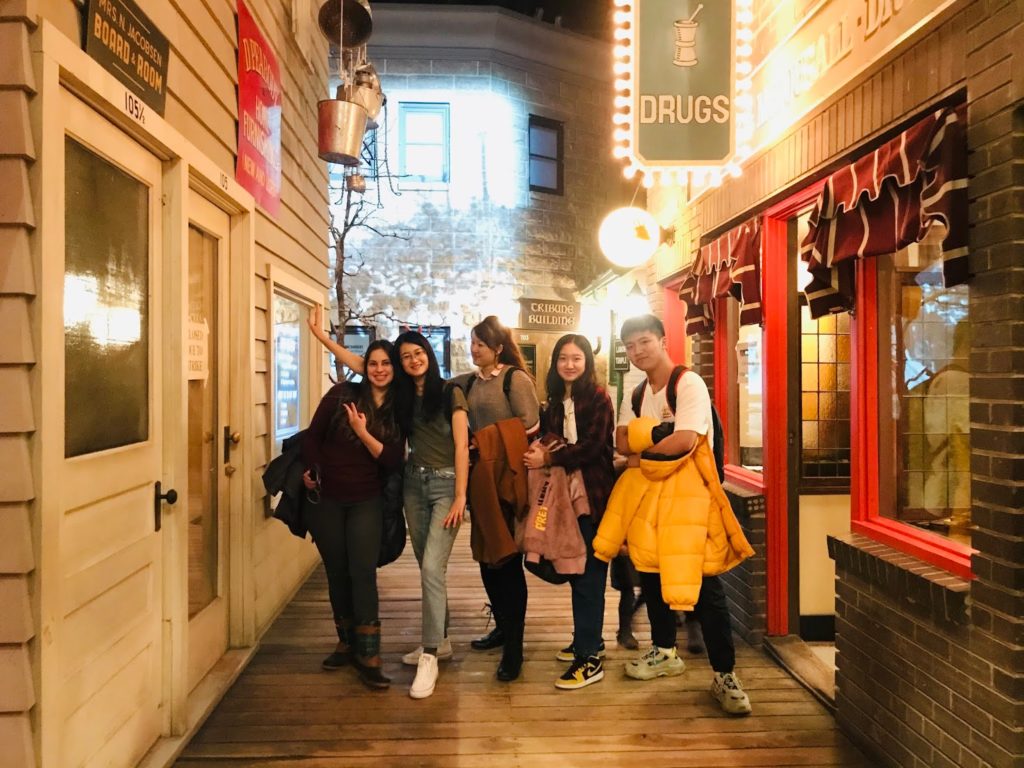 This picture was taken at the Manitoba Museum.  It's a really interesting activity.  We were very lucky to visit such a historic place.  There are a lot of huge dinosaur fossils and old age things here.  We learned the Indigenous way of life and hunting process, and there are many cool tools!  The things in it are very lifelike and we really felt like we lived in that era.
Later, the guide's patient explanation and some animal fur or props that we could touch made me feel like the museum was no longer so boring.
Maybe next time I will go to the Human Rights Museum by myself!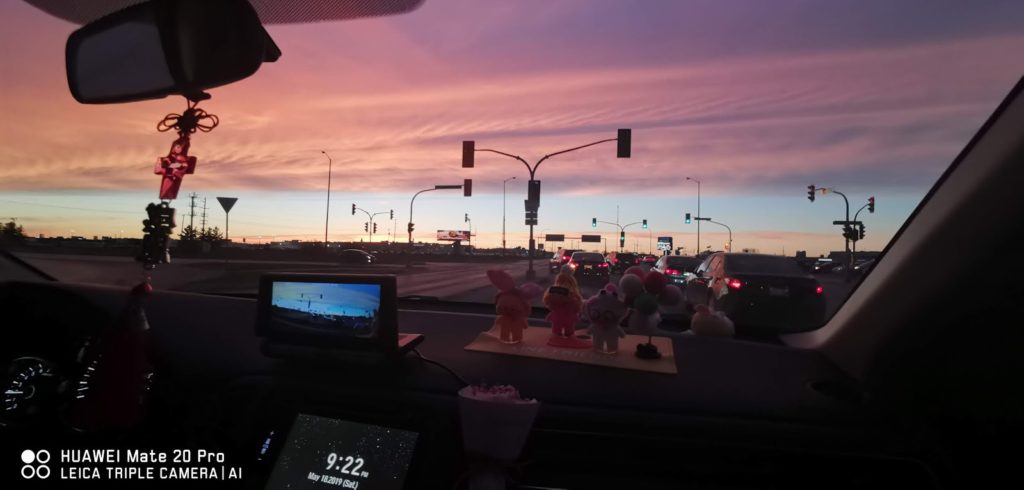 Many times when I go home after shopping at Superstore, I see a charming sky like this one.  The sky in Winnipeg always makes me intoxicated and relaxed.

Life here is slow and people are usually enthusiastic.  There is no annoying noise, no sudden danger, no pressure because people can't breathe.  In Winnipeg, there is only peace and a beautiful winter.  And you can also have a pet dog with you.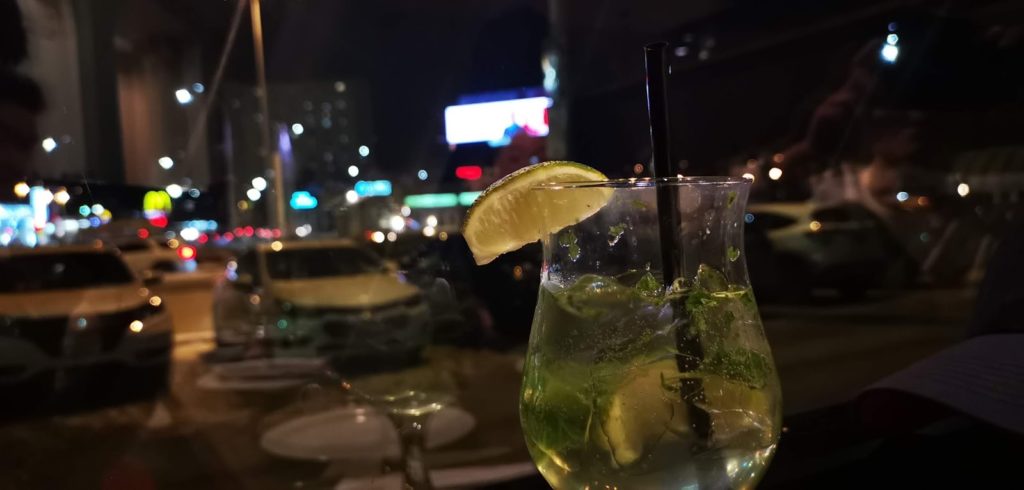 Good evening, guys.  I'm enjoying my dinner at Santa Lucia Pizza in downtown.  Today, I ordered a very special bubbly drink.  It has the freshness of lemon and mint, and these two are my favourite things!  It looks like a very low degree wine, and the cup is also very beautiful.  Maybe other people think I'm just having a really nice wine! 🙂
Would you like to have a drink with me by the quiet night scene of Winnipeg?  (Girls would be better 😋 )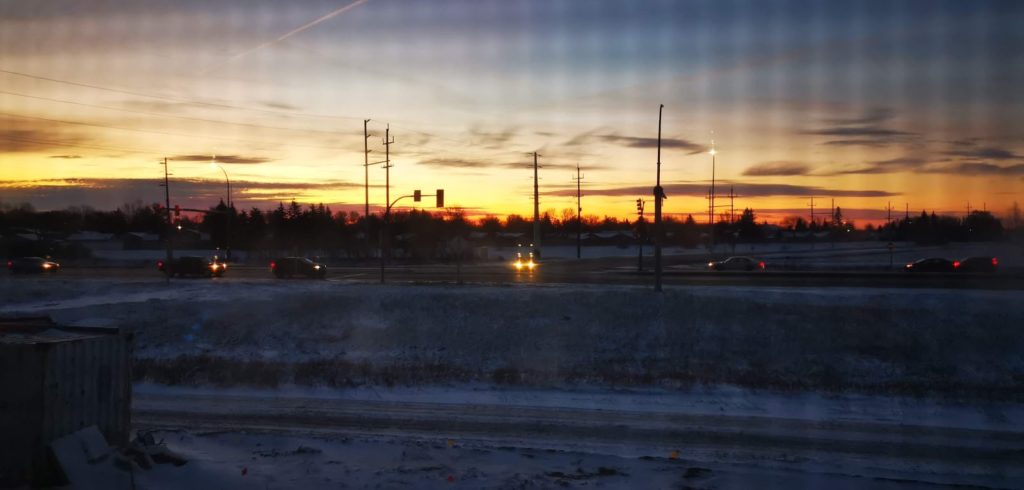 Hey guys, how was the weekend?  The new week begins.  Did you enjoy your sleep and other interesting things?  For me, it is important to enjoy a long sleep on weekends.  I often have insomnia, so I can only sleep for five or six hours everyday.  I have to get up at seven in the morning to go to Heartland, but I promise I'll concentrate in class 🙂
Monday test is coming.  Are  you ready to ace it?
It's a great honor for me to introduce my handsome cat I adopted in Winnipeg!  He's called Fury.  He's a very grumpy kitten with black and white dander.  Fury's courage seems to be much greater than other cats.  He's not even afraid of dogs that are several times bigger than him.  Every time my friend brings his pet dog to visit, Fury always puts on a look like he's ready to fight, which is really interesting.  Even my friend's dogs are afraid of Fury.
This is Fury in sunglasses– a really cool cat!


If you enjoyed Jun's essay and are inspired to create your own, please let me know!  You can contact me at jasmin@heartlandenglish.com.
I look forward to it!